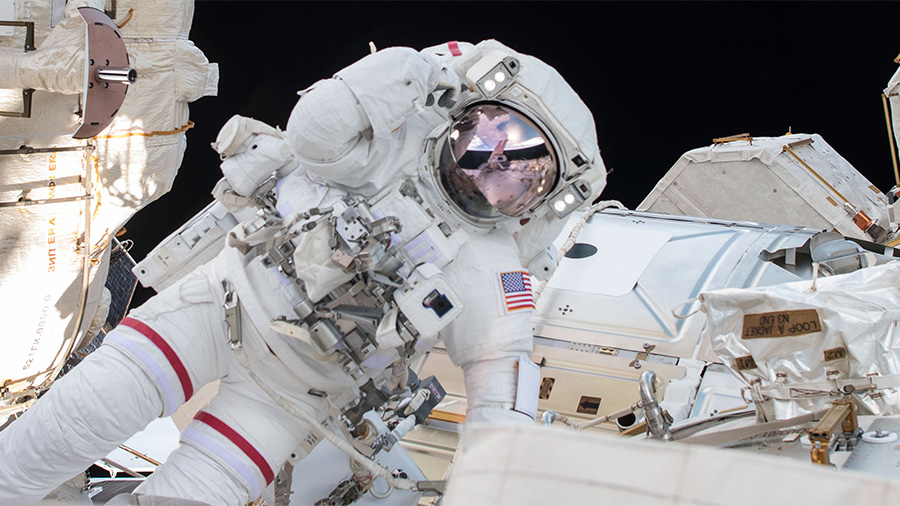 Veteran NASA astronauts Ricky Arnold and Drew Feustel will head outside the International Space Station just after 8 a.m. EDT Thursday to begin a planned six-and-a-half-hour spacewalk. Live coverage will be available on NASA Television and the agency's website beginning at 6:30 a.m.
During Thursday's spacewalk, Feustel and Arnold will install new cameras to provide high-definition views of spacecraft docking with the station.
The two spacewalkers will install brackets and high-definition cameras near an international docking adapter mated to the front end of the station's Harmony module. The additions will provide enhanced views during the final phase of approach and docking of the SpaceX Crew Dragon and Boeing Starliner commercial crew spacecraft that will soon begin launching from American soil.
During their spacewalk, the astronauts also will swap out a camera assembly on the starboard truss of the station and close an aperture door on an external environmental imaging experiment outside the Japanese Kibo module. The imaging experiment hardware will be discarded on a future SpaceX cargo resupply mission.
The spacewalk will be the 211th in support of space station assembly and maintenance and the sixth station spacewalk this year. It also will be the fifth spacewalk for Arnold and the ninth spacewalk in Feustel's career. During the spacewalk, Arnold will wear a suit bearing red stripes while Feustel's suit will not have stripes.
For updates about the crew's activities on the unique orbiting laboratory, visit: https://blogs.nasa.gov/spacestation/. Get breaking news, images and features from the station on Instagram at: @iss and on Twitter @Space_Station and @ISS_Research.