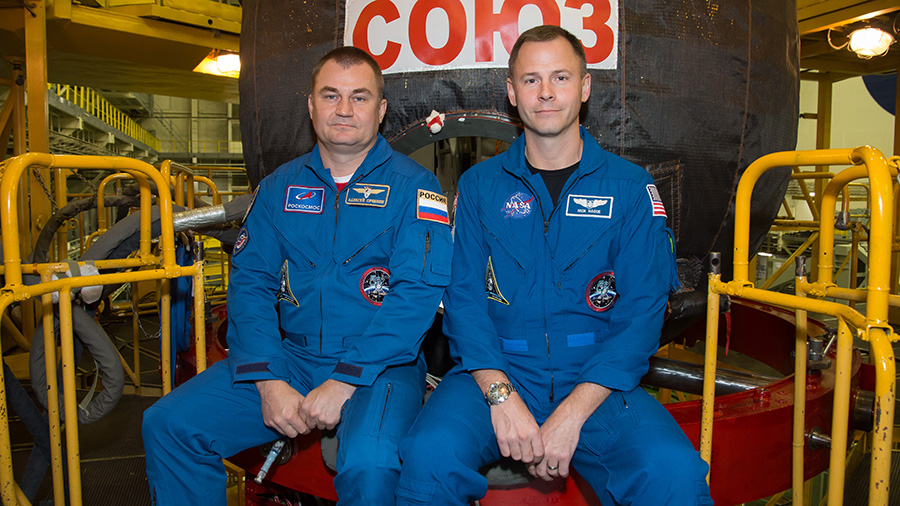 NASA astronaut Nick Hague and Roscosmos cosmonaut Alexey Ovchinin are in Kazakhstan less than a day away from launching to the International Space Station. They will blast off atop the Soyuz MS-10 spacecraft Thursday at 4:40 a.m. EDT for a six hour ride to their new home in space.
They will meet their Expedition 57 crew mates aboard the orbital lab after their Soyuz crew ship docks to the Poisk module at 10:44 a.m. Commander Alexander Gerst and Flight Engineers Serena Auñón-Chancellor and Sergey Prokopyev will greet the new duo when the Soyuz hatch opens around 12:45 p.m.
The five-person crew will gather inside the Zvezda service module for a traditional crew greeting ceremony as family and mission officials on the ground offer their well-wishes. Shortly afterward, the two new crewmates will participate in a safety briefing then begin several days of familiarization with station systems.
NASA TV begins its live broadcast Thursday at 3:30 a.m. as the crew counts down to its launch from the Baikonur Cosmodrome. NASA TV will be back on the air at 10 a.m. four orbits later as the Soyuz spacecraft approaches the station for docking. Finally, live coverage of the hatch opening and crew greeting begins at 12:15 p.m.