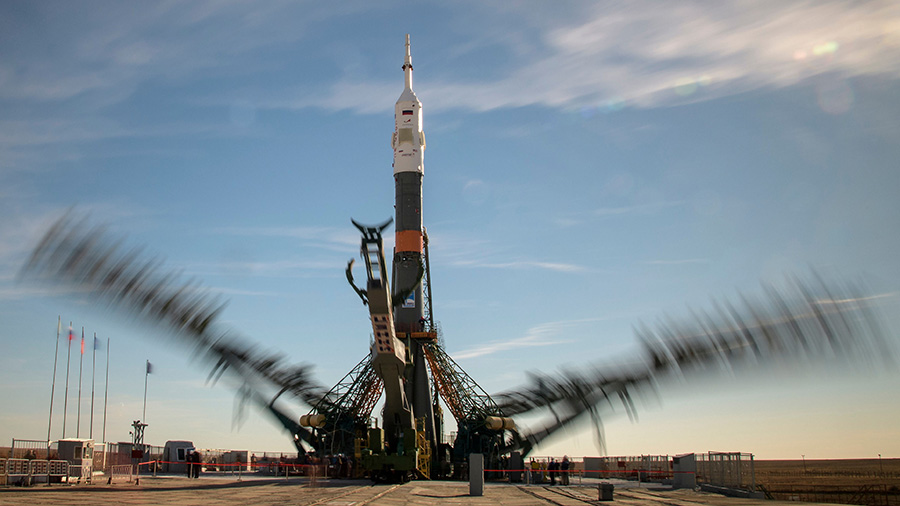 The next rocket that will launch NASA's Nick Hague and Roscosmos' Alexey Ovchinin to the International Space Station stands ready at its launch pad at the Baikonur Cosmodrome in Kazakhstan. The duo will liftoff atop the Soyuz MS-10 spacecraft Thursday at 4:40 a.m. EDT for a six-hour ride to their new home in space.
Hague and Ovchinin have been in final preparations at the launch site for two weeks of fit checks, Soyuz tests, procedure reviews and other traditional activities. This will be Hague's first flight and Ovchinin's second to the orbital lab.
Three Expedition 57 crew members aboard the space station await their new crewmates. Commander Alexander Gerst and Flight Engineers Serena Auñón-Chancellor and Sergey Prokopyev will greet the new duo Thursday when they aim to dock at 10:44 a.m. and open the Soyuz hatch around 1:10 p.m.
In the meantime, the orbiting trio today continued juggling a variety of science to improve life on Earth and maintenance to keep the station in tip-top shape. Gerst set up a microscope to observe the structure of protein molecules. Auñón-Chancellor brought in a small satellite deployer from outside the Kibo laboratory module after it deployed three CubeSats on Monday. Prokopyev worked on computers and life support gear throughout the station's Russian segment.