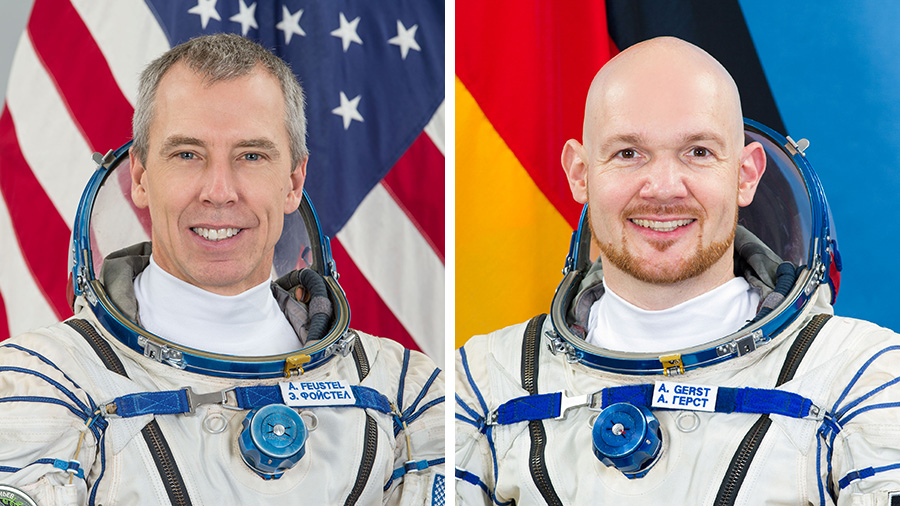 A NASA astronaut will swap command of the International Space Station with a European Space Agency (ESA) astronaut Wednesday at 10:10 a.m. live on NASA TV. Expedition 56 Commander Drew Feustel will be handing the station "keys" over to German astronaut Alexander Gerst during the traditional change of command ceremony.
Expedition 57 officially starts Thursday at 3:57 a.m. EDT when Feustel and Flight Engineer Ricky Arnold undock in the Soyuz MS-08 spacecraft commanded by cosmonaut Oleg Artemyev. Gerst, ESA's second astronaut to command the station, is remaining onboard to lead Expedition 57 Flight Engineers Serena Auñón-Chancellor and Sergey Prokopyev. The homebound trio will parachute to a landing in Kazakhstan at 7:45 a.m. (5:45 p.m. Kazakhstan time) just two orbits after undocking and 197 days in space.
Astronaut Nick Hague from NASA's astronaut class of 2014 and veteran station cosmonaut Alexey Ovchinin will be the next crew to blast off to the space station. The duo will launch Oct. 11 from the Baikonur Cosmodrome and take a six hour ride to their new home in space.
Amidst the crew departure activities today the station residents also worked space science and lab maintenance. Auñón-Chancellor worked on botany research inside the Plant Habitat located in the Columbus lab module. Gerst worked on hardware for the mobiPV study that is researching ways to increase productivity between astronauts and mission controllers. Departing astronauts Arnold and Feustel cleaned up their crew quarters.